Just enter your symptoms with App.
The AI automatically transmits calculated risk to your medical staffs.
Patients' App
Physicians' App
Patients' App
_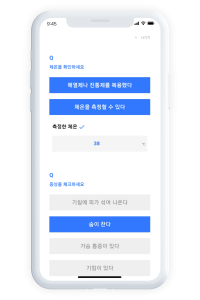 Patients' App
👩‍⚕️ Real-time connection between you and your medical staff.
🗓 Check your status with symptom calendar
✍️ Share your symptoms with your medical staff
_
Alarm push to the medical staff as symptoms transmitted.
Conditions of self-isolation patients can also be monitored.
_
_
Physicians' App